Chocolate Pudding w/ Coconut Cream
Serves 2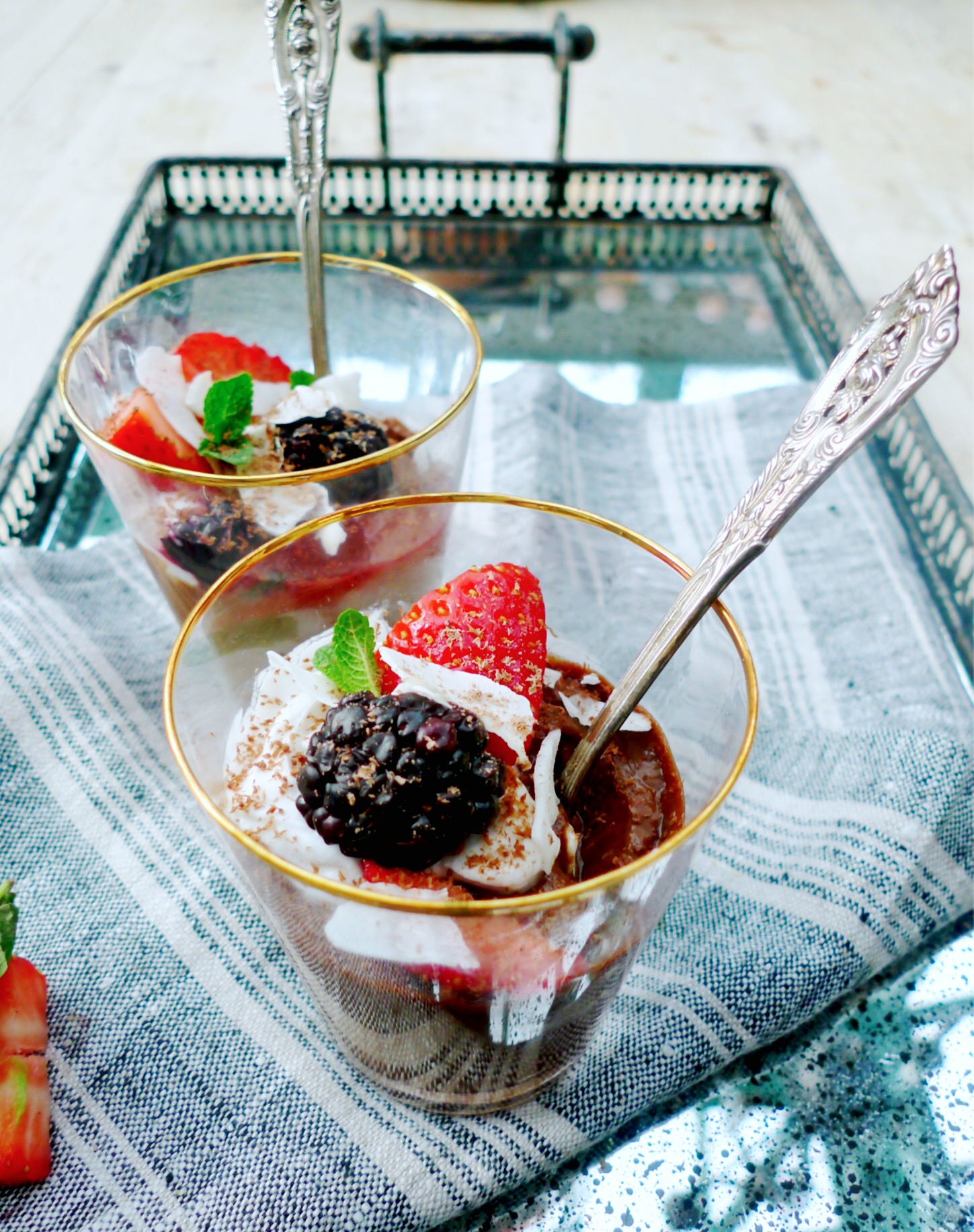 Ingredients
For the Pudding:
2 Ripe Avocados
3 Tablespoons of Cacao Powder
3 Tablespoons of Coconut Cream (From can of coconut milk refrigerated overnight)
2-3 Tablespoons of Maple Syrup/Honey
For the Coconut Cream:
3 Tablespoons of Coconut Cream
1/2 Teaspoon of Vanilla Essence
Optional: 1 Teaspoon of Maple Syrup/Honey
Optional: Berries, Nuts, Seeds, Cacao Nibs, Coconut etc
This is a game changer- bursting with healthy fats, folate and antioxidants this pudding is an anti-ageing and immunity powerhouse! Avocado pudding is nothing new but getting the creaminess, richness and sweetness just right is so important. This is exactly how I like mine- rich, smooth and with a dollop of whipped vanilla coconut cream on top. Don't tell anybody what's in it, just watch them lick the bowl clean before telling them the secret.
Remove the avocados from their skin and take out the pip. Add all of the flesh to your blender.
Scoop 3 tablespoons of coconut cream from the top of the cold can of coconut milk and add it to the blender. Add in the cacao powder and 2 tablespoons of maple syrup. Blend until creamy and smooth. Taste for sweetness, adding an additional tablespoon of maple syrup if desired.
Divide the mixture between your two serving bowls and pop them in the fridge to chill while you make the cream.
Scoop 3 more tablespoons of coconut cream from the top of the can and add it to a bowl. Add in the vanilla essence and sweetener (if using) and whisk well.
Add a dollop of cream to the top of each serving of pudding and top with any additional toppings. Serve cold.
Keeps in the fridge, covered, for up to 24 hours.