Double Chocolate Nut Butter Muffins
Makes 8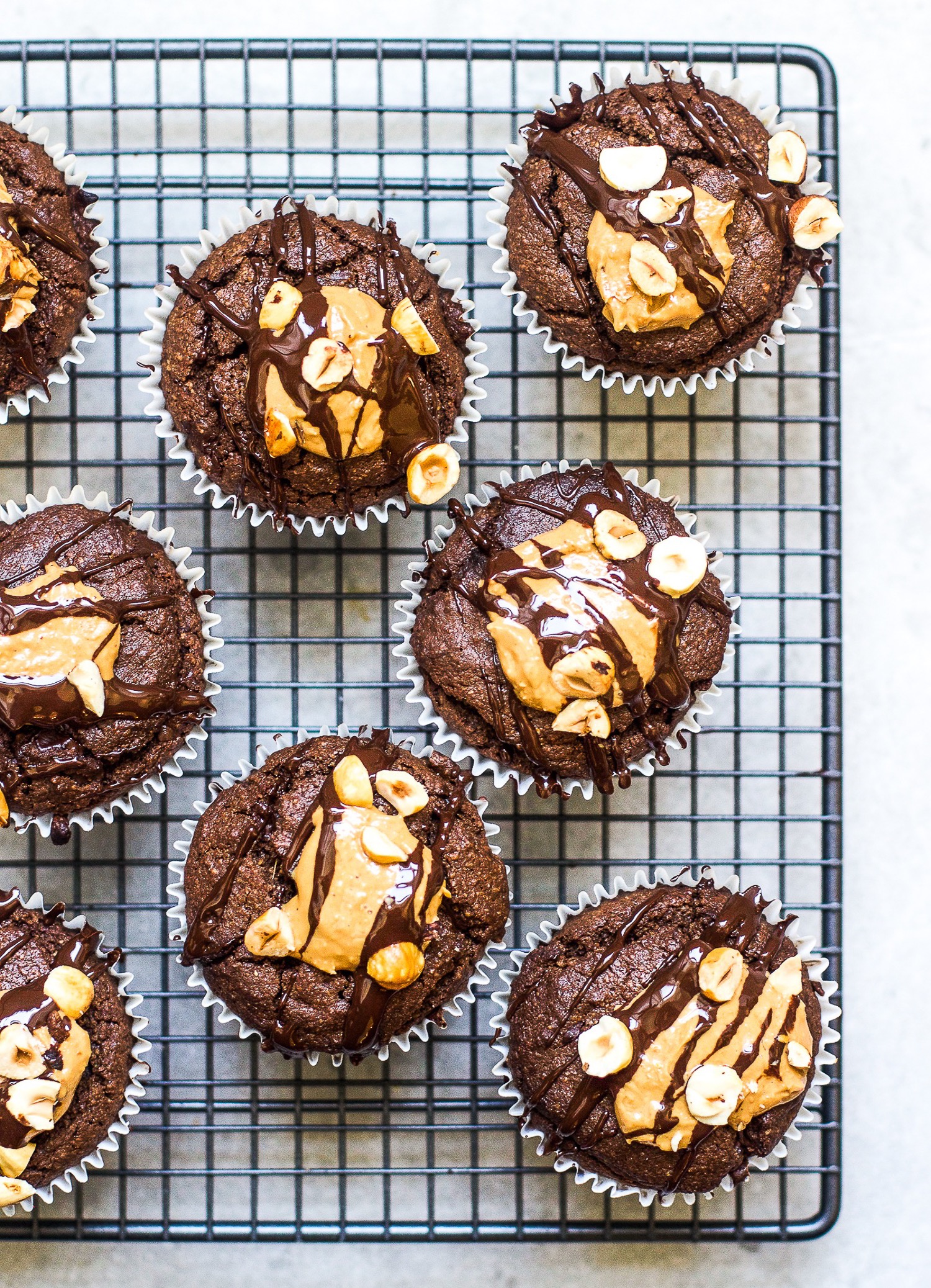 Ingredients
225g of Gluten Free Oats
25g of Cacao Powder
130g of Coconut Sugar
1/2 Teaspoon of Baking Soda
225ml of Nut Milk
1 Tablespoon of Apple Cider Vinegar
1 Teaspoon of Vanilla Essence
125ml of Melted Coconut Oil
120g of Dark Chocolate
25g of Hazelnuts
75g of Nut Butter
These are the only chocolate muffin you'll ever need. They're rich and fluffy with a heavenly dollop of runny nut butter, a drizzle of silky dark chocolate and some toasted hazelnuts for a little crunch.
Preheat the oven to 180'C.
Add the oats to your food processor and blend until fine.
Add the oat flour to a large bowl with the cacao powder, coconut sugar and baking soda and mix.
In a small bowl, mix together the nut milk and the apple cider vinegar. Then pour it into the dry ingredients and mix.
Pour in the melted coconut oil and then the vanilla and mix really well until smooth and glossy.
Chop about 75g of the chocolate into chunks and then mix them into the batter.
Line a muffin tray with cases.
Fill each one up to the top with the batter and bake for about 18 minutes until a knife inserted into the middle comes out clean. Leave them to cool on a wire rack.
While they're cooling, toast the hazelnuts in the oven for about 8 minutes until golden. Melt the rest of the chocolate.
When they're cool, dollop a teaspoon of runny nut butter on to the top of each muffin. Then decorate them with a generous drizzle of melted chocolate and some chopped hazelnuts.