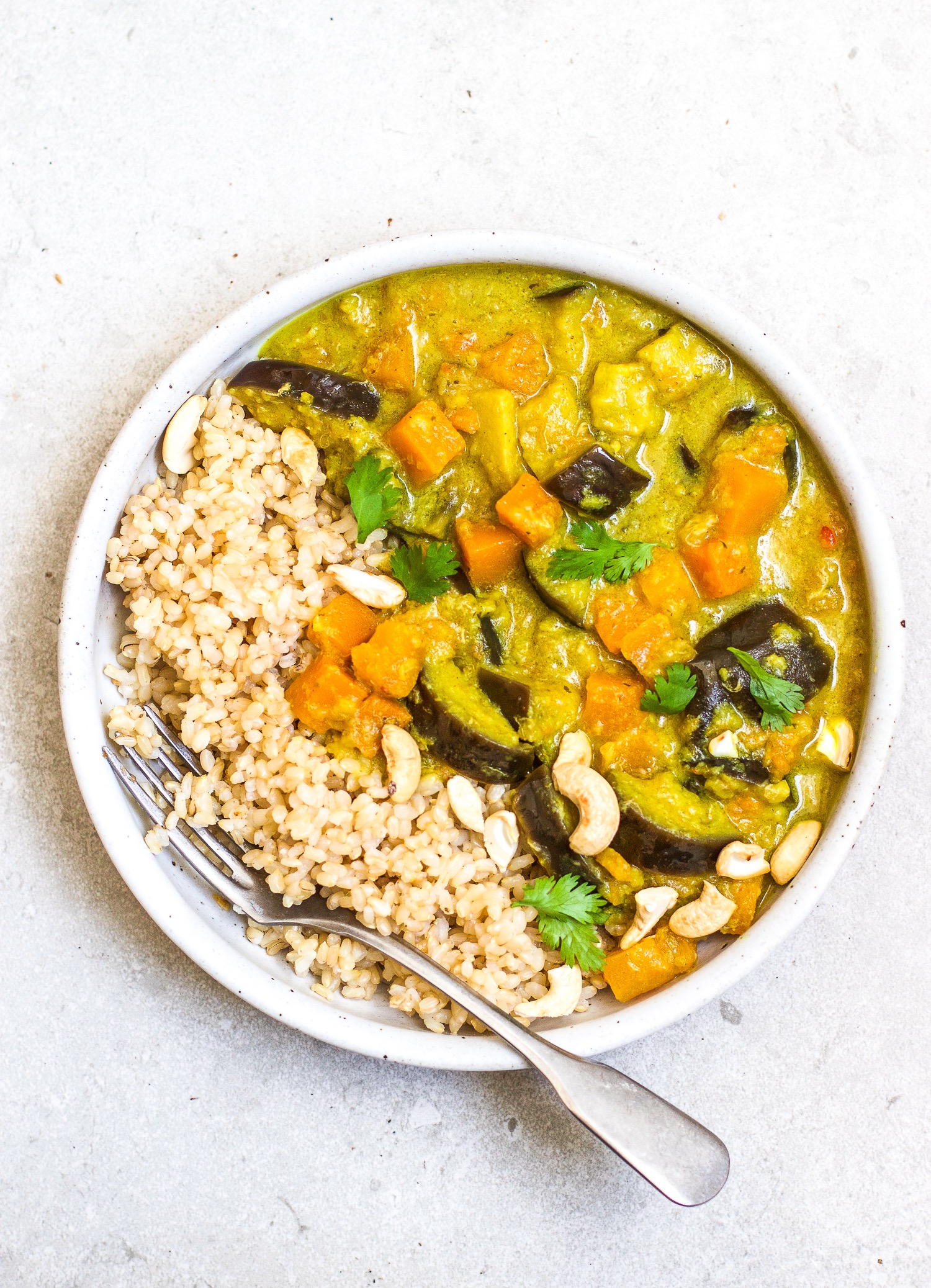 Ingredients
1/2 White Onion
1 Ripe Banana
1 Aubergine
300g of Butternut Squash
1 x 400ml Tin of Coconut Milk
250ml of Vegetable Stock
For the Curry Paste:
1/2 White Onion
3 Cloves of Garlic
20g of Fresh Ginger
1/2 Red Chili
1 Teaspoon of Turmeric
1 Teaspoon of Cumin
1/2 Teaspoon of Ground Coriander
5g of Fresh Coriander
3 Tablespoons of Melted Coconut oil
This curry has the most incredible flavour- the pairing of the fragrant, fresh curry paste with the subtle sweetness of banana makes it extra comforting. If you've got a banana going brown in the kitchen, now's the perfect excuse.
To make the paste, peel the ginger, garlic and onion and roughly chop them. Finely chop the chilli. Add them, along with all of the other paste ingredients to your blender and blend on high until smooth, scraping down the sides of the blender as needed.
Dice the remaining half onion and chop the aubergines and butternut squash into cubes. In a small bowl, mash the banana with a fork.
Place a large pot on medium heat. Add a tablespoon of coconut oil to the pot, when it's hot add in the paste and stir it around for a minute or two until sizzling. Add in the mashed banana and a dash of the coconut milk and stir so that you have a creamy paste.
Add in the onions, aubergines and squash, tossing them well so that they're evenly coated. Leave the heat on medium and cook for a few minutes, stirring regularly, until the onions have started to soften.
Pour in stock, followed by the rest of the can of coconut milk and stir. Let it simmer, turn the heat down to low and let it simmer gently with the lid on until the veg is tender, about 30 minutes.