Butternut Squash Lasagne
Serves 6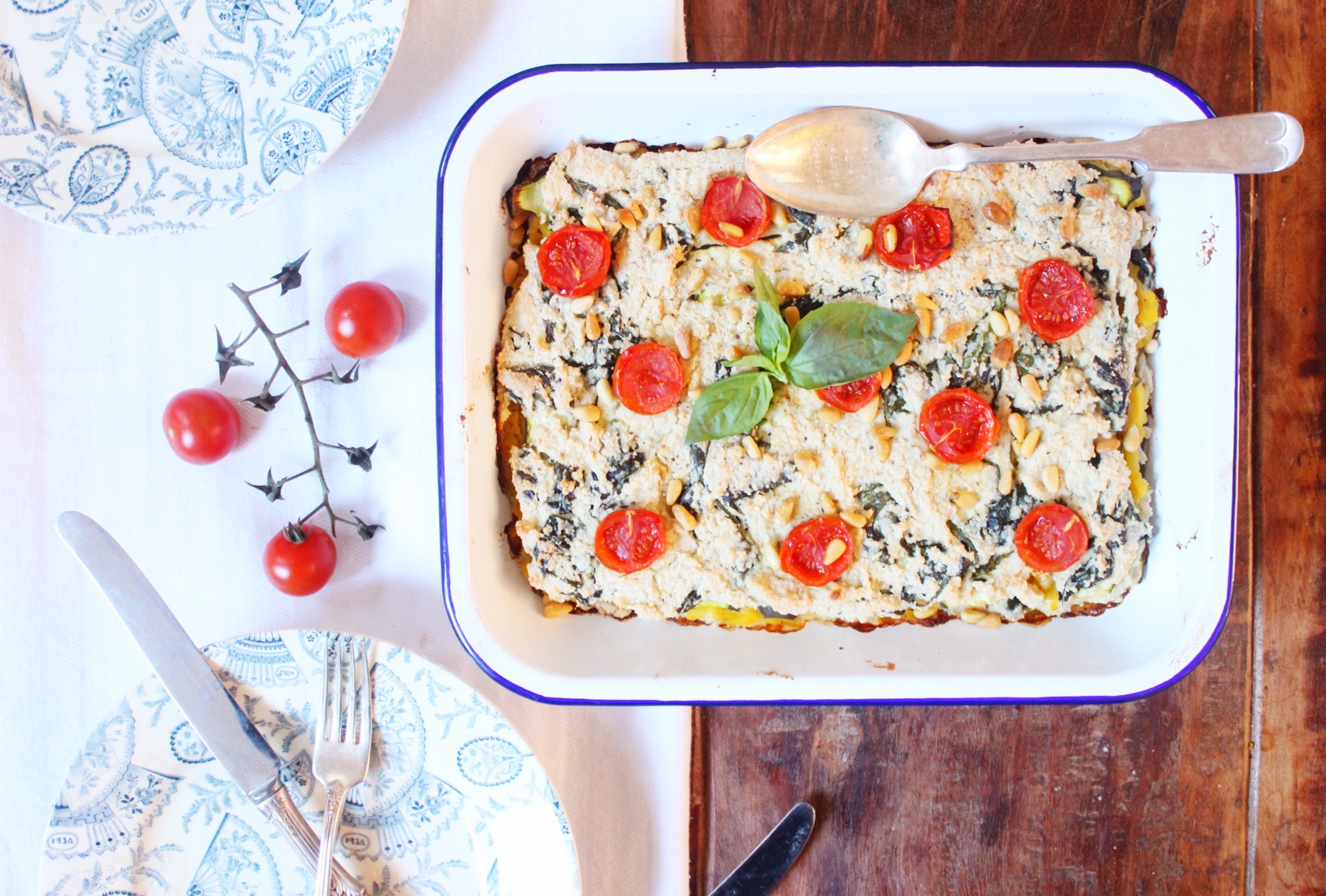 Ingredients
3 Courgettes
5 Cherry Tomatoes, Halved
1 Handful of Pine Nuts
For the Spinach Cashew Cream:
2 Cups of Cashews, soaked Overnight (300g)
1 Cup of Unsweetened Nut Milk (250ml)
Pinch of Coarse Salt
100g of Spinach
1/2 Teaspoon of Dried Rosemary
1 Clove of Garlic, Minced
For the Butternut Squash Filling:
1 Butternut Squash
1/2 Cup of Almond Milk
1 Clove of Garlic, Minced
Pinch of Coarse Salt
I'm in love with this recipe! It took me so much time to get right but each bite is worth every second. Much lighter than your traditional lasagne but every bit as delicious; with thin courgette strips instead of pasta sheets and a gorgeously garlicky spinach cashew cream in place of the bechamel, not to mention the creamy butternut squash filling oozing out in between! It may seem a bit daunting with the different layers but each is really simple and even easier if you make the butternut squash filling and cashew cream the day before!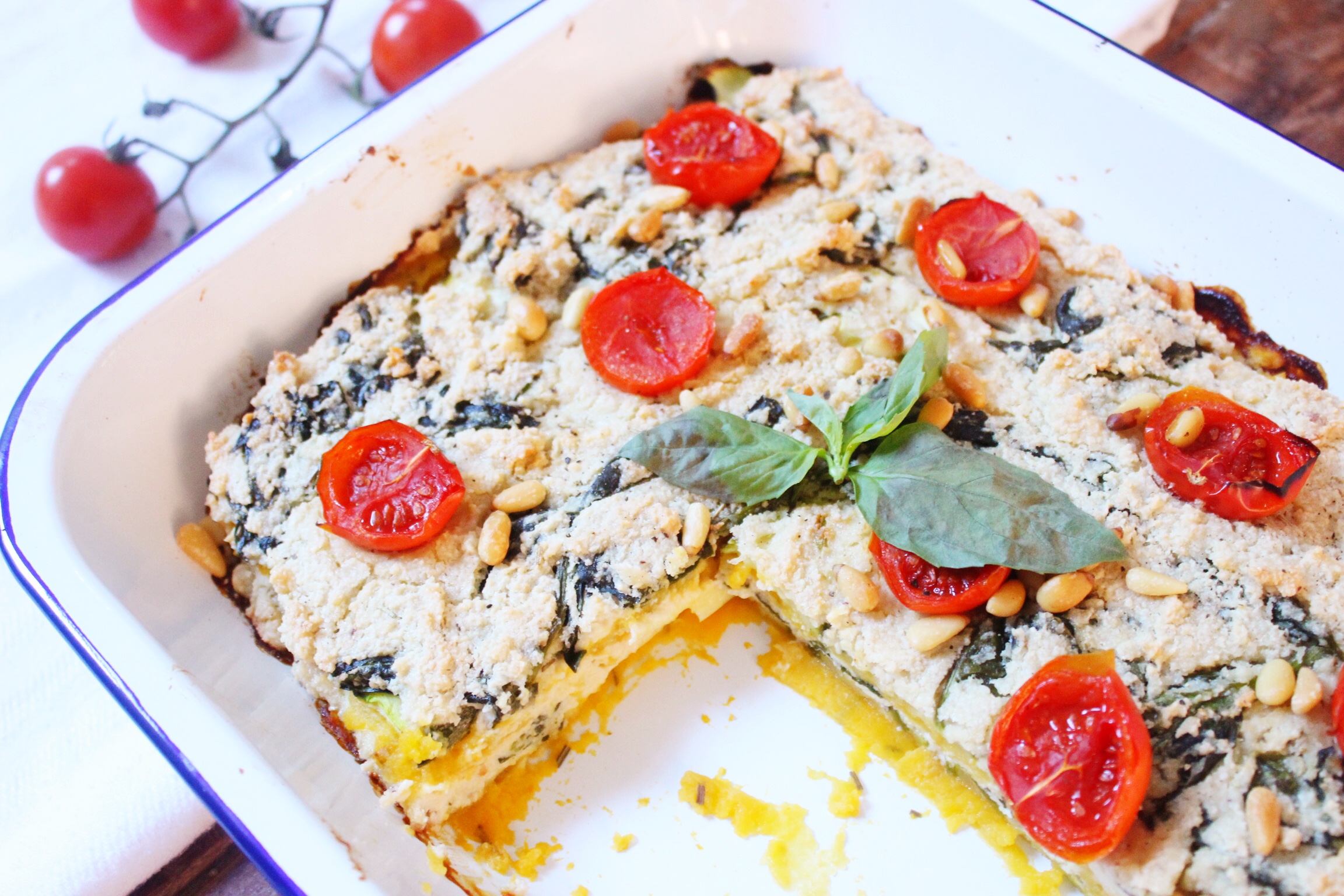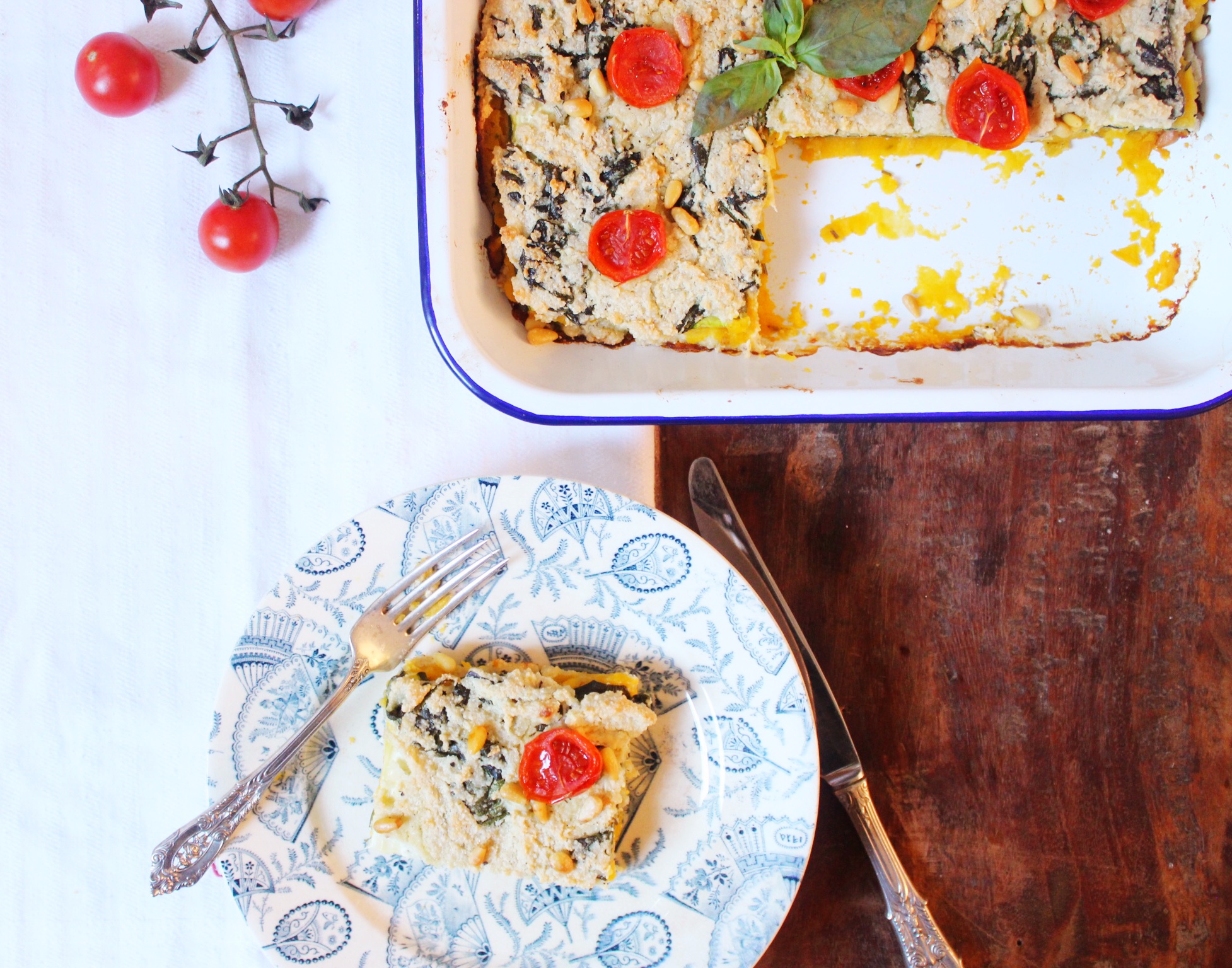 Cut the butternut squash in half and scoop our the seeds and stringy bits. Place the two halves, skin side up in a roasting tin and roast at 200'C for 40-50 minutes until the skin has started to brown and the flesh is soft. Then leave it to cool until its cold enough to handle.
While that's cooking, make the cashew cream. Drain the soaked cashews and add them to your food processor with the nut milk, minced garlic and salt and blitz until you have a smooth, creamy mixture.
When the squash is cooled, peel or cut off the skin. Chop it into a few chunks so you can fit it in your food processor and blitz it until you have a smooth purée. Add in the garlic, salt and almond milk and blend until you have a creamy mixture.
Add about a teaspoon of coconut or olive oil to a pan on medium heat and add in one clove of minced garlic and your dried herbs. Let it cook for a minute or two and then add in your spinach. Stir frequently until all the spinach is wilted.
Add the spinach to your cashew cream and mix it together.
Slice your courgettes into very thin strips lengthways, if you have a mandolin you can use that.
Spoon a layer of the butternut squash filling into your dish.
Next add a layer of courgette, you can cut them into smaller pieces to fill gaps if needs be..
Then carefully spread on a layer of the cashew cream.
Repeat these three layers again and then scatter the cherry tomatoes over the top. Cover it with tinfoil and pop it in the oven at 200'C for about 20 minutes covered. After 20 minutes, remove the tinfoil and cook for another 20 minutes uncovered. Finally, scatter with the pine nuts and cook for the last 10 minutes. It should be in the oven for a total of 50 minutes.
Take out, serve and enjoy!
SaveSaveSaveSave
SaveSave