Apple Crumble Bars
Makes 16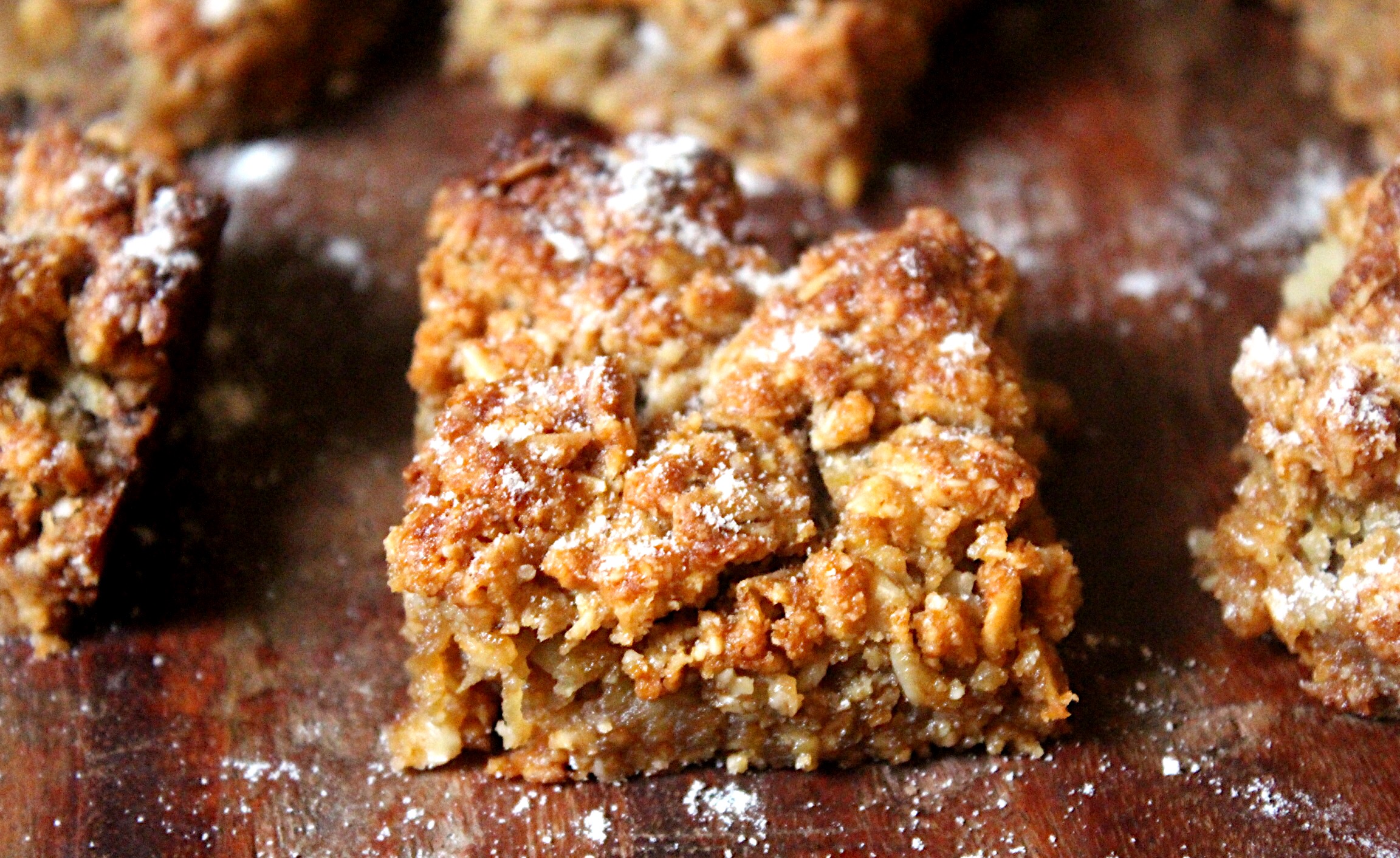 Ingredients
For the Crumble:
1 & 1/2 Cups of Gluten Free Oats (150g)
1 & 1/2 Cups of Ground Almonds (180g)
1 Teaspoon of Baking Powder
1/2 Cup of Melted Coconut Oil (125ml)
1/2 Cup of Maple Syrup (125ml)
1/2 Cup of Coconut Sugar (75g)
For the Filling:
4 Green Apples (I used Granny Smith's)
Juice of 1/2 Lemon
1 Tablespoon of Maple Syrup/Honey
Optional: 1 Teaspoon of Cinnamon
These were inspired by my Pumpkin Pie Crumble Bars– the crumble is just too good, I had to play around with more flavours. These, dare I say it, are even better! The tart shredded apple filling tastes incredible with the crispy, crumbly base and topping. I love the little kick of sharpness from the green apples and shredding it means that it cooks quickly, but not too much, so it has an amazing texture. These are delicious any time of year but if you happen to have apples falling off your trees outside right now then there's no better time to make them! I like to dust them with a little coconut flour for decoration.
In a large bowl, combine the oats, ground almonds, coconut sugar and baking powder. Then pour in the melted coconut oil and maple syrup and mix well.
Line a 9×9 inch baking tin with parchment paper. Add half of the oat mixture to the tin and use your hands to spread it out and press it evenly into the tin. Bake at 180'C for about 8 minutes until golden brown and starting to crisp.
While that's cooking, peel and grate the apple into a bowl. Use your hands to squeeze the grated apple (by the handful) over the sink, squeezing out any excess juice. Add it back to the bowl and add the juice of half a lemon and one tablespoon of maple syrup, then mix well.
When the bottom layer is done, sprinkle the apple mixture evenly over the top. Then crumble the oat mixture over the top to cover the apples. There will be a few holes peeking through but the topping will spread out and fill these as it cooks.
Pop it back in the oven at 180'C for 15-20 minutes until nice and crisp. Leave it to cool before slicing into squares and serving.