Sweet Potato Gnocchi w/ Sage & Lemon Zest
Serves 2 as a main, 4 as a side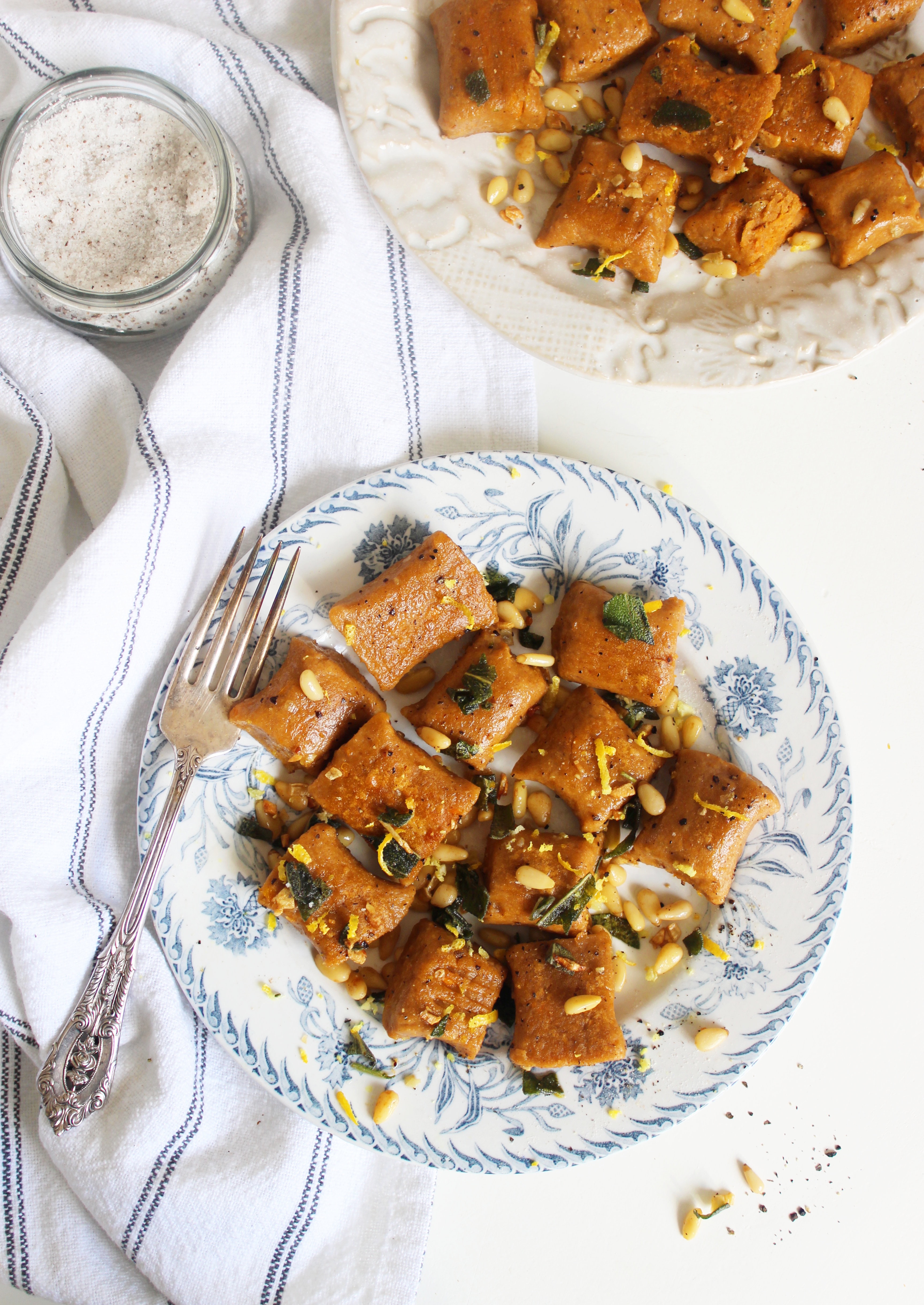 Ingredients
200g of Sweet Potato Purée (from 300g uncooked sweet potato)
1 Cup of Buckwheat Flour (125g)
2 Tablespoons of Olive Oil
5g of Sage
2 Cloves of Garlic
35g of Pine Nuts
Zest of 1 Lemon
Coarse Salt & Pepper
This is so delicious and surprisingly easy. Homemade gnocchi sounds a bit daunting but this one has just two ingredients and can be whipped up in a few minutes. The subtle sweetness of the sweet potatoes compliments the nutiness of the buckwheat flour so these aren't just more nutritious than regular gnocchi, they have more flavour too. There's no eggs, so vegans don't have to miss out. After the gnocchi is made, it's pan fried in olive oil and garlic so the outsides go gorgeously crisp. Then the pine nuts, sage and lemon zest add incredible flavour. If making this for guests, make the gnocchi and boil it ahead of time, then just finish it off in the pan when you're ready to eat.
To make the sweet potato purée, prick each sweet potato several times with a fork. Place the whole sweet potatoes in the oven at 200'C and bake for 55-60 minutes until soft. When they're cool enough to handle you should be able to remove the skins easily. Add flesh to your food processor and blend until smooth.
Combine 200g of the purée with the buckwheat flour and knead it with your hands until you have a dough, it should be quite sticky.
Spread a little more buckwheat flour out on a clean, dry surface. Pat some flour between your hands too. Divide the dough in two and one at a time, roll each piece into a long rope-like tube, about half an inch thick. Then cut into 1 inch pieces.
Boil a pot of water and add in a little olive oil and salt. Add the gnocchi and cook for about 4 minutes, until they have all risen to the top. Then scoop them out using a large spoon and set them aside.
While the gnocchi is cooking, mince your garlic and finely chop the sage.
Add 2 tablespoons of olive oil to a large pan on medium heat. Add in the minced garlic, sage, pine nuts and some salt and pepper. Let it cook for a few minutes until the garlic softens and the pine nuts start to go golden.
Add in the gnocchi and toss well. Cook for another few minutes, tossing regularly, until the gnocchi have started to crisp on the outside, the pine nuts are golden and the sage is crisp.
Plate everything and sprinkle on your lemon zest and a good pinch of coarse salt and pepper before serving.