Rhubarb w/ Vanilla Cashew Cream
Serves 2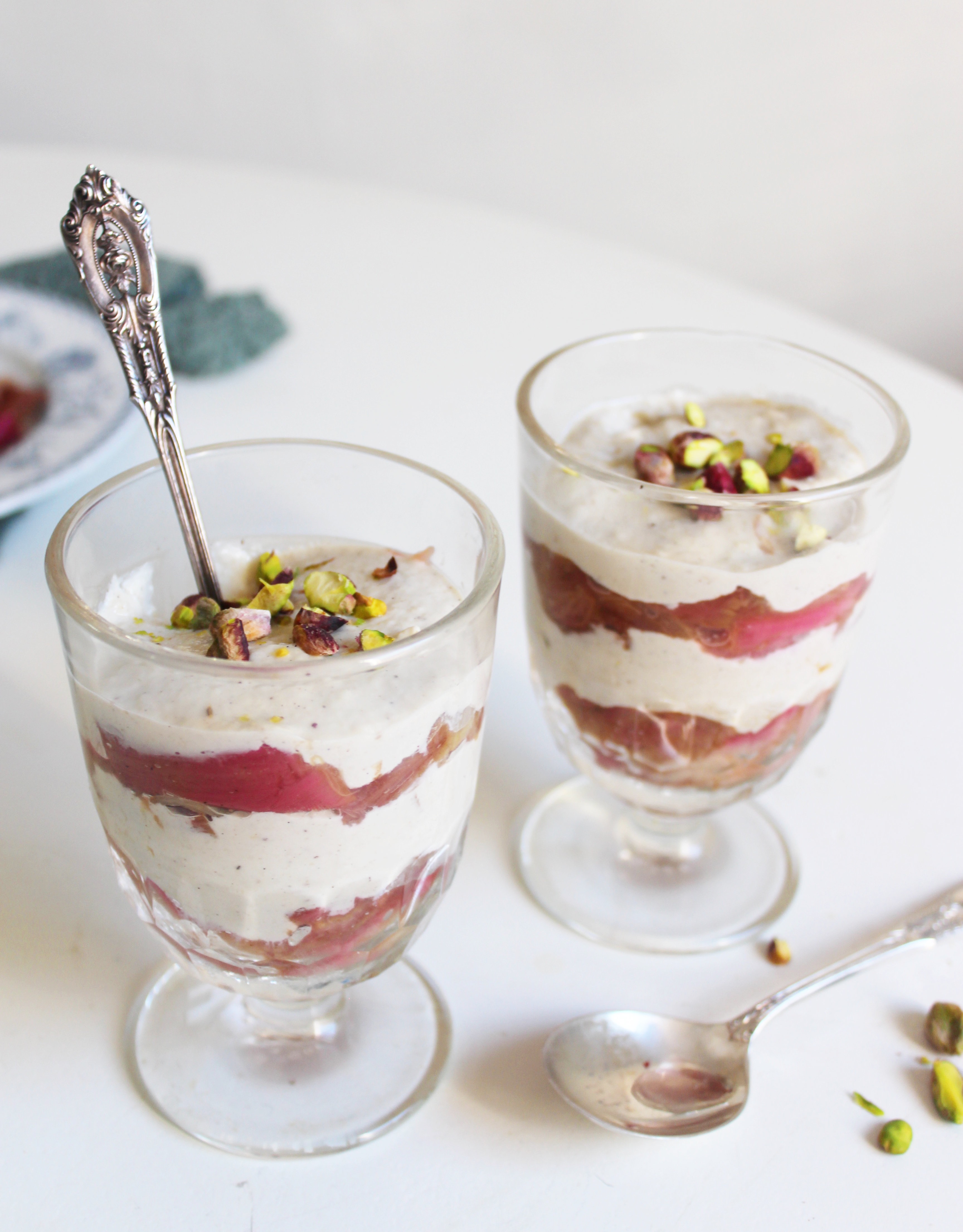 Ingredients
For the Cashew Cream:
150g of Cashews, Soaked Overnight (or min 5 hours)
1/2 Cup of Almond Milk (125ml)
1 Vanilla Pod
3 Tablespoons of Honey/Maple Syrup
For the Rhubarb:
300g of Rhubarb
2 Tablespoons of Coconut Sugar
1/2 Teaspoon of Cinnamon
This is such a beautiful dessert. Rhubarb is so wonderfully tart making it the perfect pairing for something creamy and sweet. The cashew cream is irresistibly good, trust me when I tell you you'll be licking the food processor clean! Cashews are a fabulous source of healthy fats, calcium and magnesium while rhubarb is full of dietary fibre and Alzheimer's preventing Vitamin K. This is such a gorgeous, healthy Spring treat, just don't forget to soak your cashews the night before!
Preheat the oven to 200'C.
Wash your rhubarb and then chop it into chunks. Add it to a roasting tray and sprinkle on the coconut sugar and cinnamon, then toss well. Cover the tray with tinfoil and bake at 200'C for 20 minutes. When it's ready it should be falling apart and be nice and juicy.
While the rhubarb is cooking, make the cashew cream. Drain the cashews and rinse them, then add them to your food processor with the almond milk. Blitz on high until smooth and creamy. Scrape in the seeds from the vanilla pod and drizzle in the sweetener. Blend again until smooth.
Take out the rhubarb and turn the heat down to 180'C. Pop the pistachios in the oven for a few minutes until golden and toasted.
Use half of the rhubarb to fill the bottom of your jars or bowls. Then cover with a layer of cashew cream. Repeat with one more layer of each and then sprinkle on the roasted pistachios before serving.