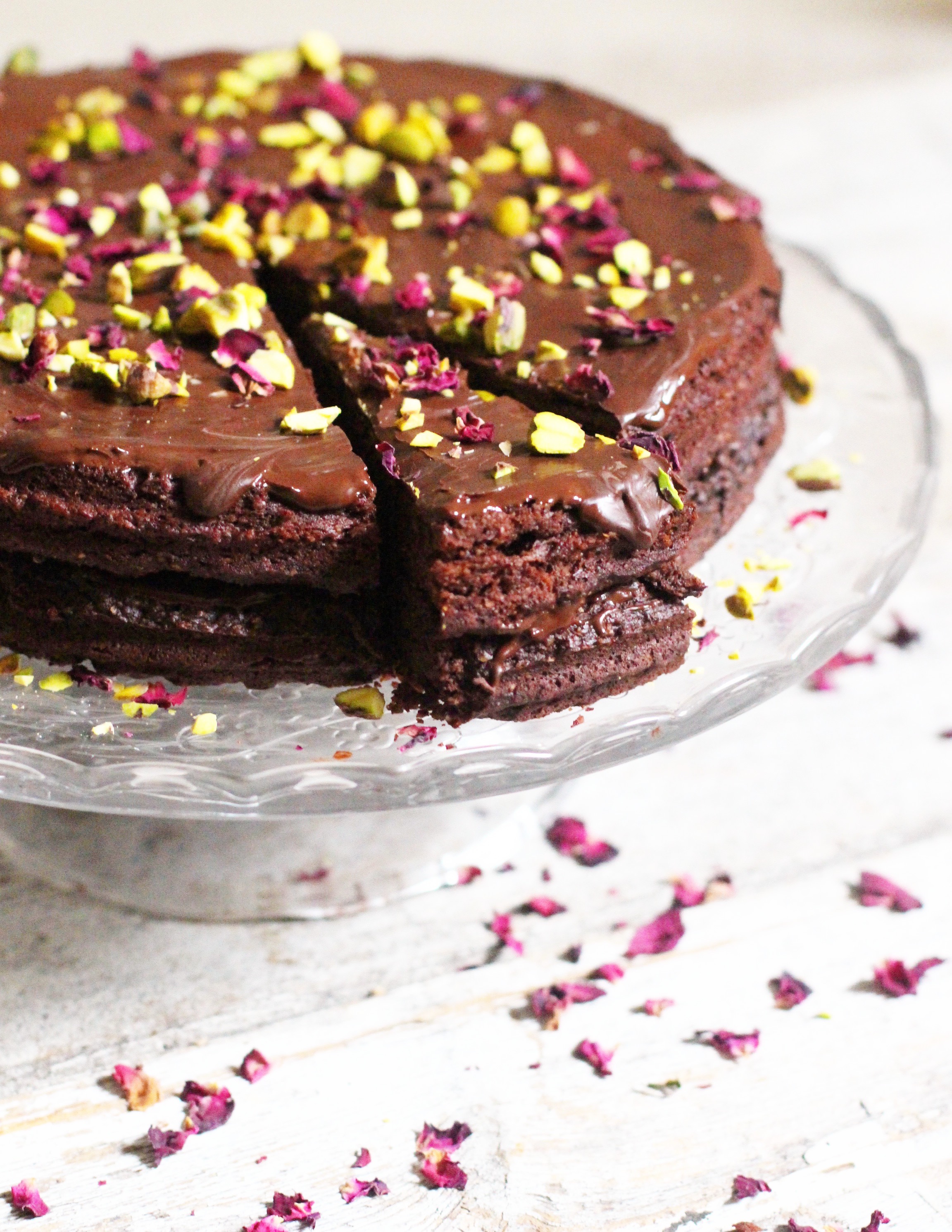 Ingredients
For the Cakes:
400g of Dark Chocolate
330g Ground Almonds
2 Teaspoons of Baking Powder
70g Coconut Sugar
60g Ground Flaxseed
360ml of Water
2 Teaspoons of Vanilla Essence
6 Tablespoons of Almond Milk
For the Icing:
100g of Dark Chocolate
3 Tablespoons of Almond/Cashew Butter
This icing is so silky and looks gorgeous dripping down the edges before it cools. I sprinkled mine with some rose petals and roasted pistachios too.
Preheat the oven to 180'C. In a large bowl combine the ground almonds, baking powder and coconut sugar.
Combine the ground chia seeds and the water and mix well, then set it aside.
Slowly melt the dark chocolate on low heat until smooth. Then, pour it into the ground almonds and mix well. Add the vanilla to the chia seeds and give it another stir until it's thick, like the texture of a raw egg. Pour it into the chocolate almond mixture and mix really well until smooth.
Gradually add in the almond milk while mixing.
Grease two spring form cake tins with a little coconut oil and then spread the mixture out evenly with a spatula.
Bake each cake at 180'C for about 30 minutes, or until a cake tester comes out clean. Set them aside to cool for about 10 minutes before removing them from the tin, then let them cool completely on a wire rack.
When the cakes are cool, slowly melt the dark chocolate for the icing. Then whisk in the nut butter until smooth.
Spread a thin layer over one cake, then place the other cake on top and spoon the rest of the icing into the middle. Use the back of the spoon to swirl the icing outwards, letting it drip over the edges. Decorate more if you like or serve as is.