Roast Squash w/ Mint Yoghurt
Serves 4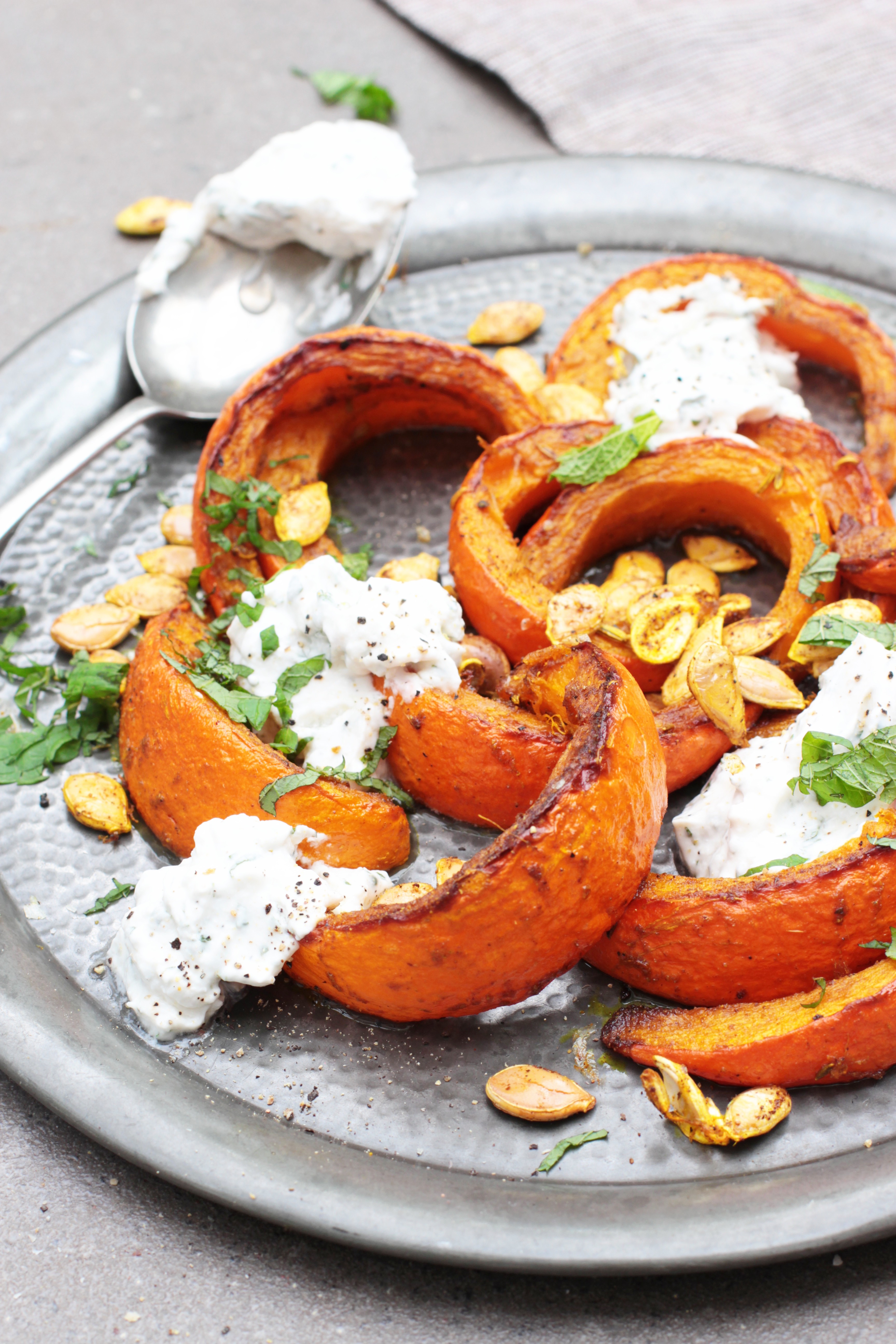 Ingredients
1 Medium Pumpkin or Squash
2 Tablespoons of Olive Oil
1 Teaspoon of Cumin
1/2 Teaspoon of Fennel Seeds
1/2 Teaspoon of Turmeric
Sea Salt & Pepper
For the Mint Yoghurt:
1 Cup of Greek or Coconut Yoghurt (120g)
Juice of 1/2 Lemon
1/2 Teaspoon of Cumin
Sea Salt & Pepper
Handful of Fresh Mint
This is so gorgeous and simple. You can use pumpkin or squash and I like to leave the skin on, it's delicious when it's roasted. I love the fennel seeds so don't leave them out and the roasted seeds are incredible covered in all the spices.  
Preheat the oven to 200'C. Cut the pumpkin or squash in half and scoop out the threads and seeds in the middle, setting them aside. Cut the flesh into wedges (I leave the skin on).
Lay the wedges out on a roasting tray and sprinkle on the spices. Drizzle on the olive oil and toss everything with your hands. Pop in the oven to roast for about 30 minutes until tender.
While it's roasting, add the pumpkin threads and seeds to a colander and rinse with water to separate the seeds. Let them dry on some kitchen paper and discard the threads.
When the pumpkin has been in for about 15 minutes, add the seeds to the tray, then toss everything and put it back in the oven for another 15 minutes until the pumpkin is tender and the seeds are crisp.
For the yoghurt, add it to a bowl with the lemon juice, cumin and a good pinch of sea salt and pepper. Finely chop the mint and stir it in.
Serve the pumpkin warm with dollops of yogurt and all the seeds sprinkled on top.
SaveSaveSaveSave