Chuna Sweetcorn Baked Potato
Serves 2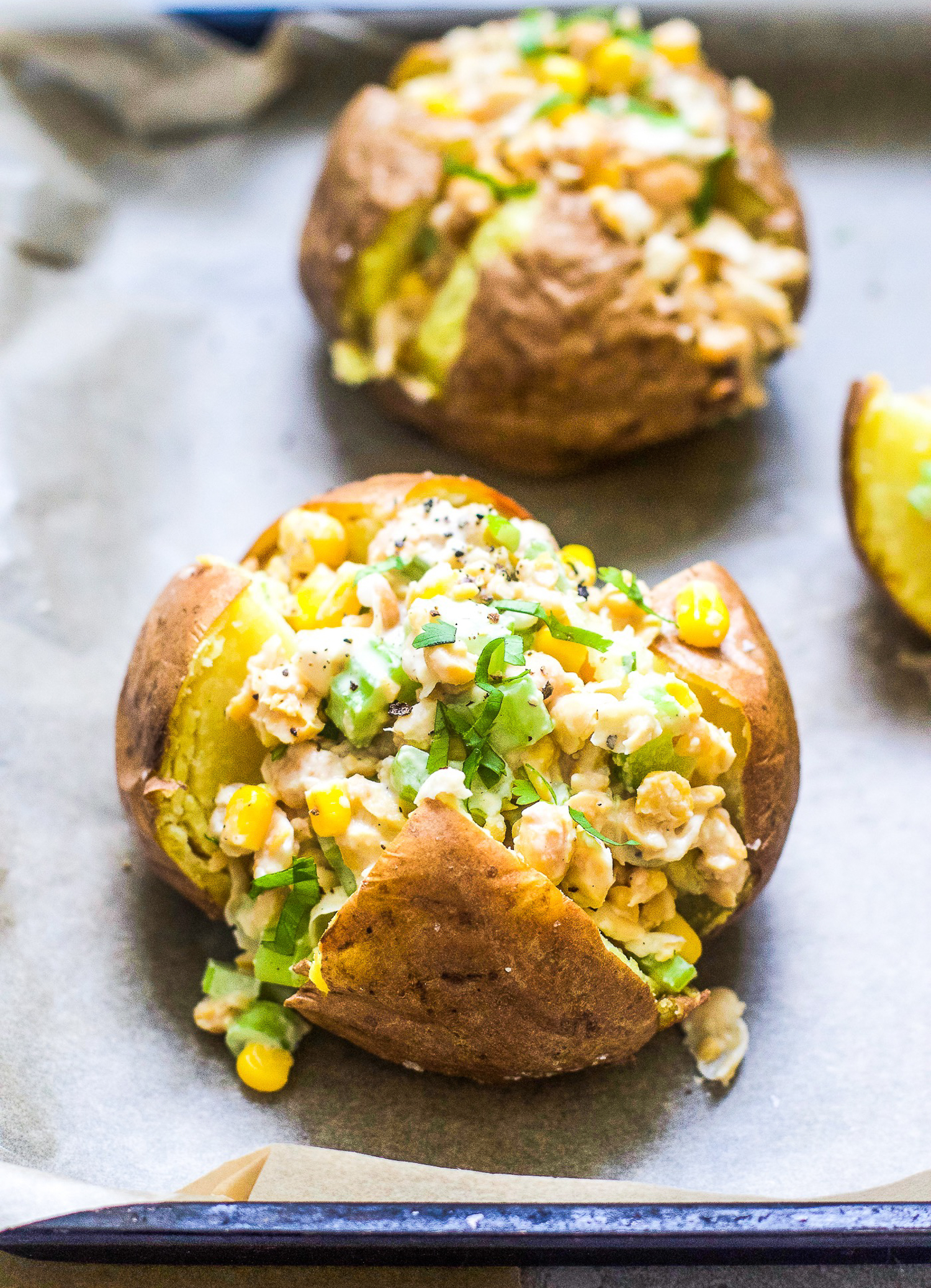 Ingredients
2 Large Potatoes
1 Tablespoon of Olive Oil
For the Chickpea 'Tuna' Sweetcorn:
1 Tin of Chickpeas (240g Drained Weight)
1 Celery Stalk
3 Spring Onions
Handful of Cornichons Pickles
2 Tablespoons of Capers
100g of Sweetcorn
3 Tablespoons of Vegan Mayo
1 Teaspoon of Dijon Mustard
2 Teaspoons of Red Wine Vinegar
Sea Salt & Pepper
This is such a clever twist on the classic lunch time favourite. The chickpea 'tuna' sweetcorn is so quick and simple- it's also gorgeous with pasta.
Preheat the oven to 200'C.
Use your hands to rub olive oil all over the potatoes. Place them on a roasting tray and sprinkle well with salt and pepper. Bake for about 50-60 minutes until tender on the inside and crispy on the outside.
While they're baking, make the chickpea filling. Drain and rinse the chickpeas and add them to a large bowl.
Mash the chickpeas with a fork.
Finely dice the celery, spring onion and pickles. Add them to the bowl with the chickpeas and capers. Add the sweetcorn too.
In a small bowl, whisk together the vegan mayo, Dijon and vinegar.
Pour the sauce over the chickpeas, season generously with salt and pepper and mix well. Taste it and add a little more vinegar if you like.
Slice open the baked potatoes and pile the filling generously into the middle.