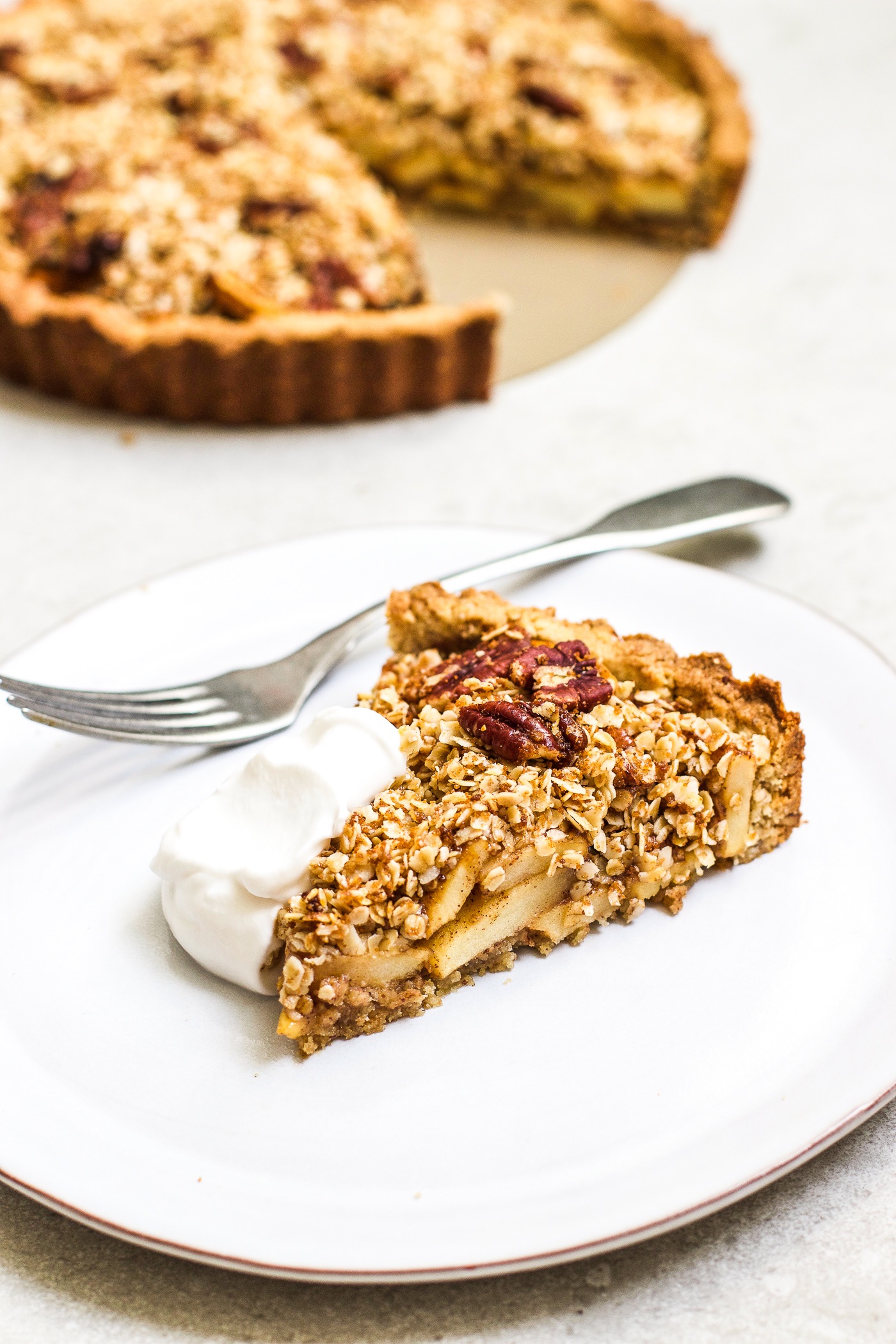 Ingredients
For the crust:
80g of Pecans
150g of Ground Almonds
60ml of Melted Coconut Oil
45ml of Maple Syrup
For the filling:
3 Apples
30g of Coconut Sugar
Juice of 1/2 Lemon
1/2 Teaspoon of Cinnamon
For the crumble:
30g of Pecans
70g of Gluten Free Oats
20g of Coconut Sugar
45ml of Melted Coconut Oil
This is such a gorgeous dessert for entertaining. It works any time of year and is always a crowd pleaser.
Preheat the oven to 180'C.
Add the pecans to your food processor and blend until fine.
Add them to a large bowl with the ground almonds and a pinch of sea salt and mix well.
Pour in the maple syrup and melted coconut oil and mix well.
Press the mixture firmly into the bottom of a greased tart tin and up the sides. Bake for about 7 minutes, you just want to give it a little head start, not fully bake it.
Peel, quarter, and thinly slice the apples. Add them to a saucepan on medium heat with the coconut sugar, cinnamon and the juice of half a lemon and mix well. Cook for about 10 minutes, stirring often just until they're starting to soften.
Pile the apples evenly on top of the crust.
Roughly chop the pecans and add them to the bowl with the oats and coconut sugar and mix well. Drizzle in the melted coconut oil and mix well.
Evenly crumble the topping over the apples to cover.
Turn the heat down to 170'C and bake for about 25-30 minutes until the crumble is golden and the apples are tender.