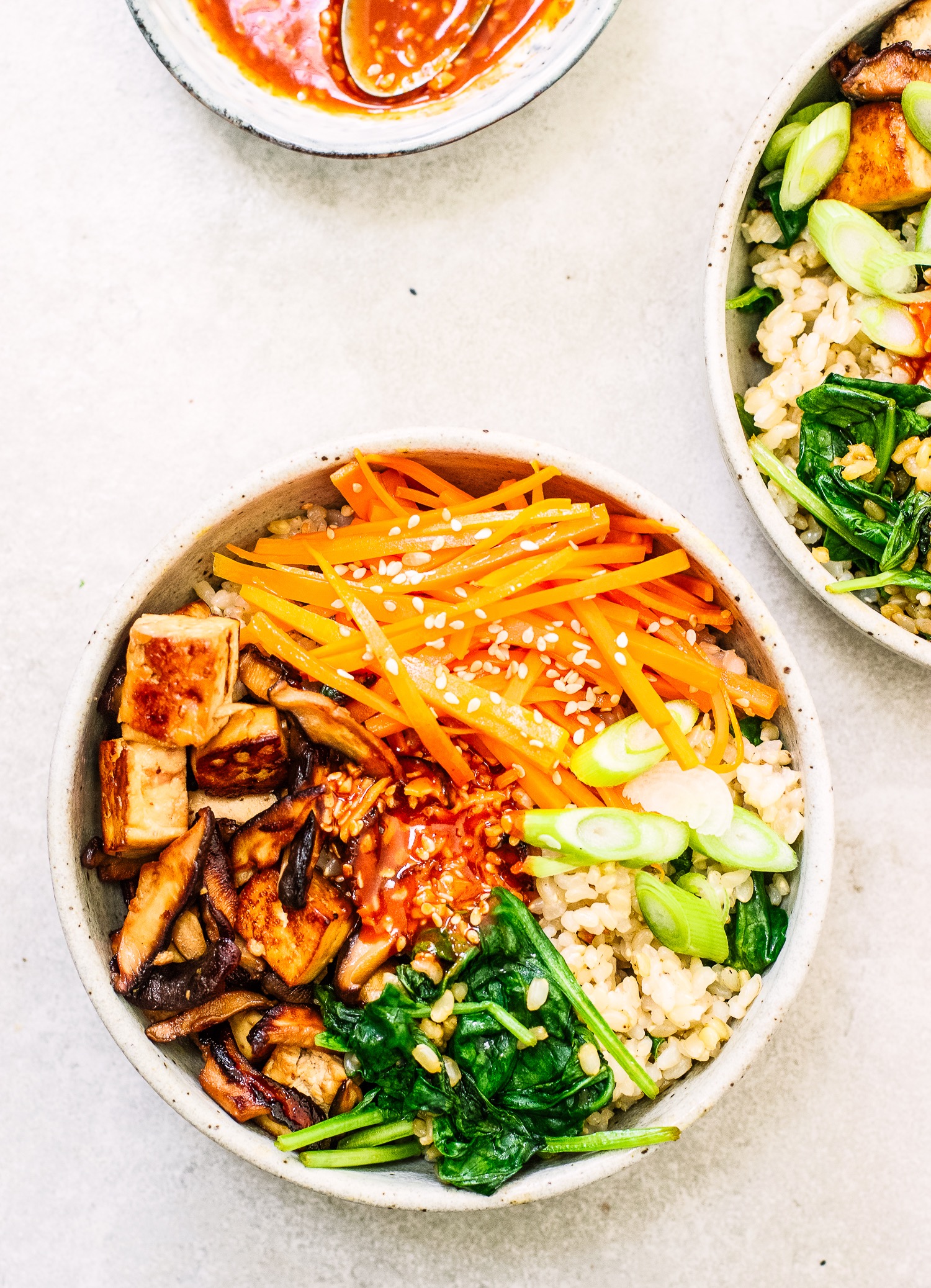 Ingredients
For the tofu & mushrooms:
400g of Firm Tofu
300g of Shiitake Mushrooms
60ml of Tamari
30ml of Sesame Oil
15ml of Maple Syrup
1 Clove of Garlic
For the rice:
400g of Sushi Rice
250g of Carrots
15ml of Sesame Oil
75g of Spinach
For the bibimbap sauce:
15g of Sesame Seeds
45ml/65g of Gochujang (use Siracha or Thai Chili Paste if you can't get it)
25ml of Sesame Oil
25ml of Maple Syrup
30ml of Apple Cider Vinegar
1 Clove of Garlic
This is my kind of meal- bucket loads of flavour, lots of colour and texture and so much nutritious goodness.
Pat the tofu dry and slice it into cubes. Slice the mushrooms. Whisk together the tamari, sesame oil and maple syrup in a large bowl. Mince the garlic and add it to the bowl with the tofu and mushrooms. Toss well and set aside to marinate for 30 minutes.
While it's marinating, cook the rice according to the packet instructions. Peel and slice the carrots into matchsticks. Toast the sesame seeds for the sauce in a pan until golden, then mix together all of the ingredients for the sauce in a small bowl and set it aside.
After 30 minutes, Add a tablespoon of sesame oil to a large pan on medium heat, add the carrots and cook for 2-3 minutes, tossing often until lightly tender but still with some bite. Then remove them from the pan and set aside.
Add the tofu and mushrooms to the pan and cook for about 10 minutes, tossing every few minutes, until well browned all over. Don't toss them too often as you want the tofu to crisp.
Push them over to one side of the pan and then add the spinach and cooked rice, tossing often, cooking until the spinach is wilted.
Serve the rice with the carrots, tofu and mushrooms and sauce. Mix together before tucking in.