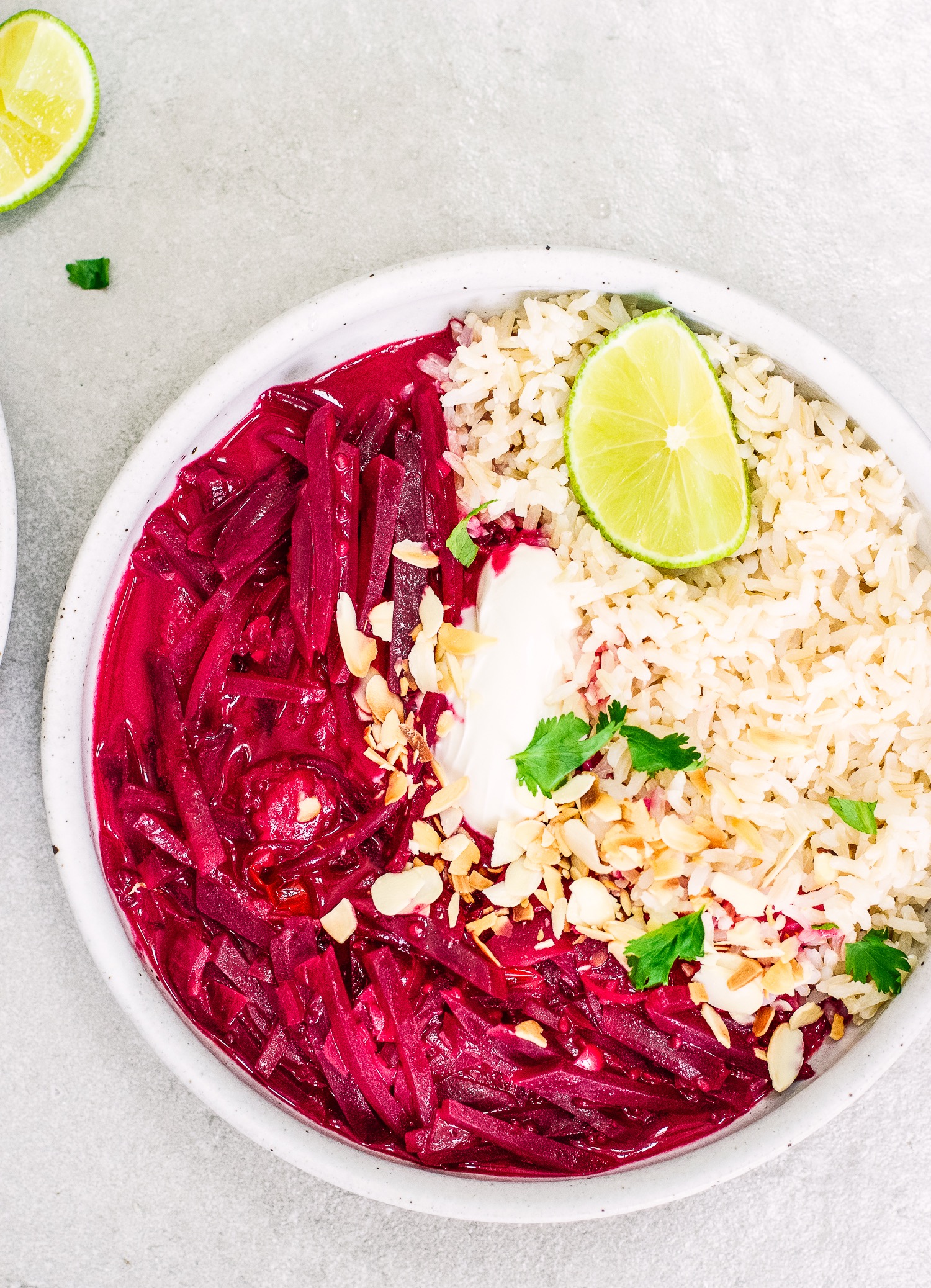 Ingredients
600g Raw Beetroot
1 White Onion
3 Cloves of Garlic
2 Tablespoons of Coconut Oil
2 Teaspoons of Mustard Seeds
2 Teaspoons of Curry Powder
1 Cinnamon Stick
300g of Cherry Tomatoes
1 Tin of Full Fat Coconut Milk
Juice of 1 Lime
30g of Flaked Almonds
5g of Coriander
This is such a vibrant, interesting curry that's a gorgeous way to change things up. The beets and coconut milk give it a lovely mild sweetness that's beautiful with the zing of the lime.
Peel the beets and cut them into matchsticks. Dice the onion and mince the garlic.
Place a large pot on medium heat and add the coconut oil. Add the mustard seeds and let them heat up for a minute or two until they start to pop. Then sprinkle in the curry powder and add the cinnamon stick. Toss well.
Add the onions, whole cherry tomatoes and a good pinch of sea salt and cook for about 5 minutes, stirring often, until softened. Use a wooden spoon to break up the tomatoes as they soften. Then, add the minced garlic, toss well and cook for another minute.
Add the beets and coconut milk and bring it up to a simmer. Turn down the heat so that it's simmering very gently and pop the lid on. Cook for about 15-20 minutes until the beets are tender.
When the beets are tender, squeeze in the juice of half a lime and stir.
In a small frying pan, toast the almonds on medium heat until golden.
Serve the curry with the flaked almonds and some extra lime on the side for squeezing over.