Jerk Cauliflower Steaks
Serves 4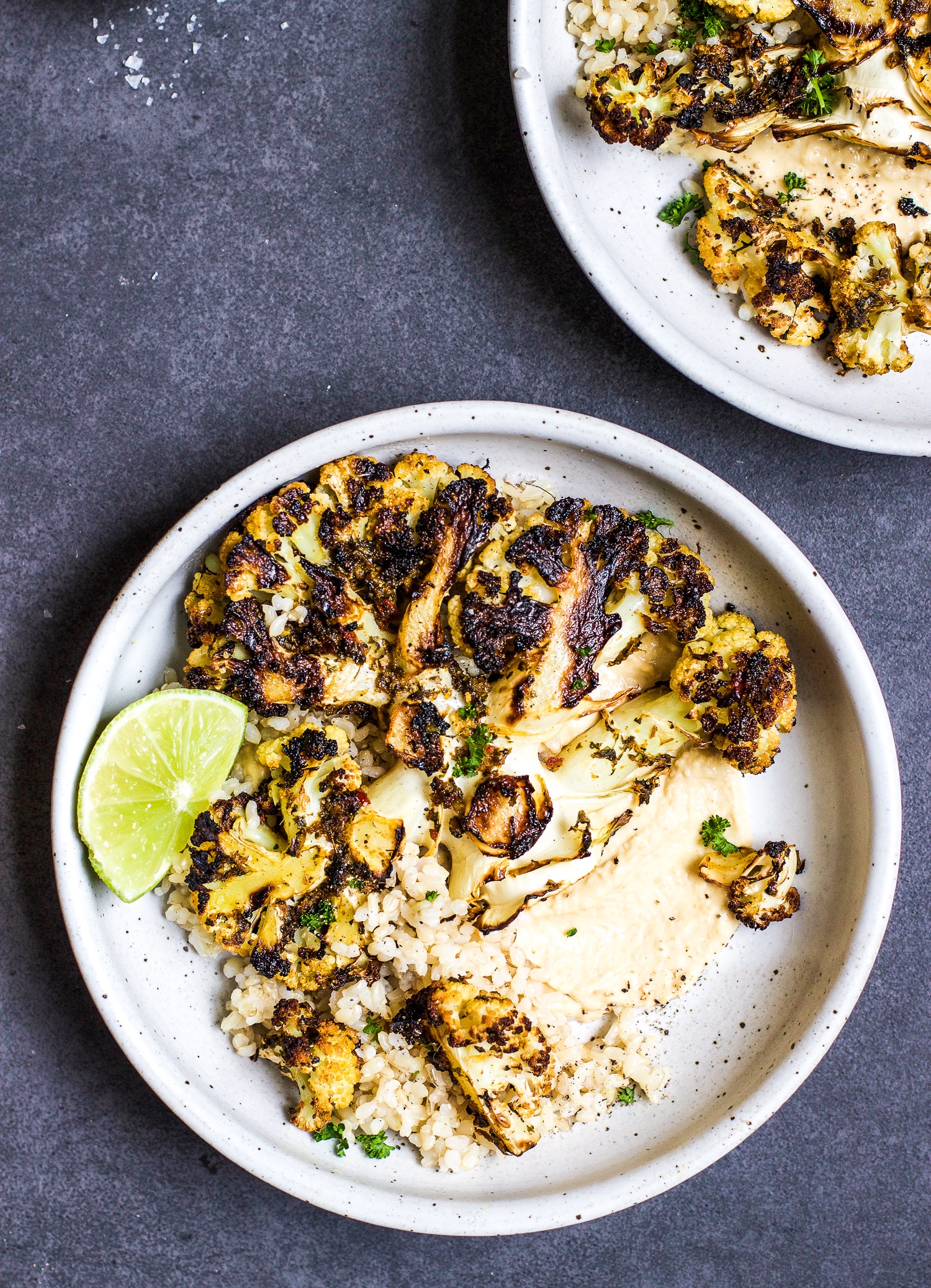 Ingredients
For the Jerk paste:
30g of Fresh Coriander
20g of Fresh Ginger, Peeled
1/2 Red Chili
2 Garlic Cloves, Peeled
1 Tablespoon of Olive Oil
1 Tablespoon of Maple Syrup
1 Tablespoon of Water
1 Teaspoon of Dried Thyme
1 Teaspoon of Ground Coriander
1 Teaspoon of All Spice
1/4 Teaspoon of Cinnamon
Juice of 1 Lime
Sea Salt & Pepper
This paste is so incredibly delicious and really easy to whizz up. Slicing cauliflower into 'steaks' is a great way to make them barbecue savvy and with a rub like this you'll be licking the plate.
Preheat the oven to 200'C and get the barbecue on.
Add all of the paste ingredients to your blender and blend on high until smooth.
To cut the cauliflower, remove the outer leaves but leave as much of the stalk as you can. Slice the cauliflower in half down the middle, then cut a 1.5cm steak from the flat side of each half. You can trim excess stalk from the steaks now. If you can get more steaks out of the cauliflower do, otherwise chop it into florets to serve on the side. You'll definitely get two big steaks and will have enough florets to feed at least 4.
Use your hands to coat the cauliflower steaks in the paste. Add the remainder of the paste to a large bowl with the florets and toss them to coat. Place the cauliflower steaks on a roasting tray and spread the florets out around them. Roast for about 20 minutes.
After 20 minutes, remove the tray from the oven and pop the cauliflower steaks on the barbecue. Cook them for about 5 minutes each side until charred and tender. Return the tray to the oven with the florets and cook them for another 10 minutes or until starting to crisp.
Serve with a sprinkle of sea salt and a wedge of lime.